THURSDAY, JULY 16, 2015
WRITTEN BY?Michael Klein, Philly.com
Fishtown resident and real estate developer Lee Larkin and his partner Nicole Barclay are behind Front Street Cafe, opening in August in a grand 19th-century building at the corner of Front and Thompson Streets in Fishtown.
It will take a healthful approach to its fare.
The cafe will run from sun-up to sundown, starting with a juice bar and coffee shop open early to serve morning commuters (as it's just a block north of SEPTA's Girard Station), offering juices, smoothies, Counter Culture Coffee, and grab-and-go breakfasts and lunches.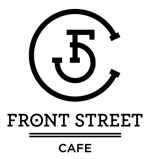 Menus were created by chefs Andrew Petruzelli (XIX at the Bellevue, Grand Hyatt DC, Knock) and raw-food specialist Lisa Ransing (Georges Perrier, Full Moon Fare, Horizons).
Brunch will begin early (7 a.m.) and run through midafternoon daily, with sandwiches, salads, burgers and breakfast tacos with more than 18 topping choices, including heirloom tomatoes, organic baby kale, mushroom bacon, avocado, and nacho cashew cheese.
The dinner menu, served from 4 to 10 p.m., will include such dishes as wild rice collard dolmas with citrus hemp dressing; avocado citrus salad with organic baby kale, avocado, mango, radish greens, hemp, pumpkin seeds, and citrus jalapeno dressing; zucchini lasagna; and organic rotisserie half-chicken. Ransing will make raw vegan desserts, including coconut chocolate pudding and key lime pie.
A full bar will serve cocktails, craft beers, and organic and biodynamic wines designed to match the menu and pair well with artisanal cheeses.
Larkin and Barclay redid one of the few remaining 19th-century brick buildings along Front Street, retaining all of the original architectural details, including an intricate third-story tin cornice and Schuylkill pine hardwood floors. Almost all of the additional building components were reclaimed. Steps were built from joists taken from a home being demolished at Temple University, and wooden beams for the outside bar came from a warehouse at 25th and Oxford Streets.
A display cabinet on the second floor – intended as a community space overlooking the Market-Frankford El – pays homage to the history of Fishtown and the river wards by showcasing hundreds of pre-Civil War artifacts that were discovered under the property during construction. A backyard garden has table seating for 80.
Front Street Cafe?(1253 N. Front St., 215-515-3073) is in good company in the neighborhood, as it's essentially around the corner from Frankford Avenue's La Colombe and Kensington Quarters.
Read?the original article at Philly.com